Modern Bath Remodels For Homeowners Ready to Create Their Dream Oases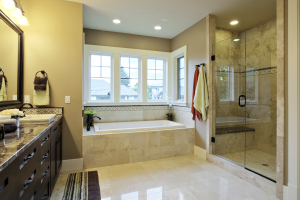 More than a high-traffic room in your home, the bathroom plays a significant role in your day-to-day routines—helping you prepare for the day in the morning and wind down in the evening. If this well-used space is lacking in one or both of these departments, featuring a rundown shower system or outdated tub, it might be wise to consider an upgrade. And for homeowners in Southgate and other nearby areas of Michigan, Adkins & Sons is the trusted source for bath remodels that will make your home all the more functional and aesthetically pleasing.
Bathroom Remodeling Done Right
While Adkins & Sons is well known for window and exterior door replacements, we also offer a wide range of home renovations—like bathroom remodeling services—to ensure customers can benefit from a seamless service that meets all of their home remodeling needs. For our bath remodels, Adkins & Sons' experts will work closely with you to find the best products for your needs—pulling any necessary permits to complete the job as well as the installation with the utmost precision. Our end goal with bathroom remodels is to leave you with a modernized space that is not only more appealing but also offers better functionality for your various needs. From tub replacements to tub-to-shower conversions, we'll do what we can to help you transform your bathroom into your dream oasis.
Why Choose Adkins & Sons?
As one of the longest-tenured home improvement companies in the Southgate, Ann Arbor, and Downriver communities, we have perfected our processes—offering a wide range of comprehensive services that always prioritize customer satisfaction. Contact Adkins & Sons today to learn more about our bath remodels and to schedule a free consultation.
Contact Us