Beautiful Front Doors Worthy of Gracing Homes in Grosse Pointe, MI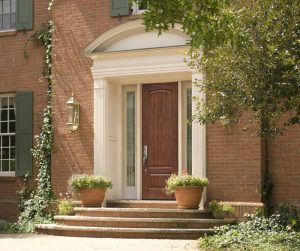 Whether your home in Grosse Pointe, Michigan, is a lakefront mansion or a cozy vacation getaway, it deserves a front door that sets it off to perfection. At Adkins & Sons, we offer exquisitely crafted ProVia entry doors that are custom manufactured to suit the homes they're destined for to a T. And even though every front door we install is as unique as the home it will grace for decades, all of our entry doors have these attributes in common:
Outstanding Weather Resistance
Homes in Grosse Pointe must endure above-average humidity as well as precipitation that includes an abundance of snowfall. This means you need an entry door that won't absorb moisture and become warped or riddled with termites. The front doors available from Adkins & Sons are meticulously crafted from either fiberglass or steel but with all the rich textures of genuine wood. This means your new front door will boast the classic appeal of real wood but won't need the intensive maintenance required to keep a wooden door looking its best.
Exceptional Energy Efficiency
ProVia has racked up numerous awards for its energy-efficient front doors, which means you can count on your new door from us to help keep your indoor areas warm and comfy, even during the bitterly cold winters in Grosse Pointe.
Unparalleled Craftsmanship
No matter what style and decorative features suit your fancy, the front door you receive from Adkins & Sons will be painstakingly manufactured for long-lasting beauty and performance. Moreover, our entry doors also come with enhanced security features for optimal resistance to break-ins.
Expert Installation
When you partner with us, you won't have to worry that the beautiful front door you've selected won't perform as advertised because of a shoddy installation. Our installers are all well trained and dedicated to meeting the highest industry standards.
The first step toward getting the perfect front door for your Grosse Pointe home is to schedule a free consultation with one of our exterior door experts. Contact Adkins & Sons today to make the arrangements.
Contact Us